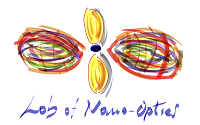 ---
The Laboratory for Nano-Optics deeply regrets the tragic accident and the death of Dr. Dmitry Fedyanin. We express our sincere condolences to Dmitry's family and friends. Dmitry was a recipient of a Walter Benjamin Position of the DFG on "Pulsed electrically driven single-photon sources on diamond" and since July 2023 he has been a research associate in our group. We have been collaborating since almost a decade on the electroluminescence from color centers in diamond. We mourn the loss of a good friend and of a talented young scientist.
---
Group member Navid Soltani obtains the PhD in Physics. Congratulations!
---
Our book chapter on ultrafast single-photon detection published in Advances in Nonlinear Photonics.
---
Our latest work on ODMR published in Adv. Quantum Technol.
---
Join the celebrations for the 50th birthday of the University of Siegen. Check out the program Offene Uni.
---
Group member Lukas Hunold receives the student prize of the Kreis Olpe for his master thesis. Congratulations Lukas!
---
Our latest work on biosensing with planar antennas published in Biomed. Opt. Express
---
Check out the Adv. Photonics Theme Issue on Photonics Advances Quantum Science and Technologies
---
Our article on scalable SiV creation by ion implantation on the front cover of the December Issue of Adv. Quantum Technol.
---
Check out the JOSA B Feature Issue on Light-Matter Interaction in Complex Photonics Systems
---
Our latest work on planar antennas published in JOSA B
---
Our review on silicon-vacancy centers in diamond published in Frontiers in Physics
---