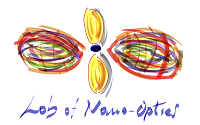 ---
Our latest work on ODMR published in Adv. Quantum Technol.
---
Join the celebrations for the 50th birthday of the University of Siegen. Check out the program Offene Uni.
---
Group member Lukas Hunold receives the student prize of the Kreis Olpe for his master thesis. Congratulations Lukas!
---
Our latest work on biosensing with planar antennas published in Biomed. Opt. Express
---
Check out the Adv. Photonics Theme Issue on Photonics Advances Quantum Science and Technologies
---
Our article on scalable SiV creation by ion implantation on the front cover of the December Issue of Adv. Quantum Technol.
---
Check out the JOSA B Feature Issue on Light-Matter Interaction in Complex Photonics Systems
---
Our latest work on planar antennas published in JOSA B
---
Our review on silicon-vacancy centers in diamond published in Frontiers in Physics
---
Our latest work on color centers in polycristalline diamond membranes published in Carbon
---
The Proceedings of the International School of Physics "E. Fermi", Course 204 "Nanoscale Quantum Optics", are available as en e-book here.
---
Photonic Devices
Where: University of Siegen, (from 30.05) EN Campus, Lecture: Room EN D-308, Exercises: Room EN-D120
When: Summer Term 2022, Lecture: Mo. 14:00 - 16:00, Exercises: Tu. 08:00 - 10:00     
Lecturers: Mario Agio, Peter Haring-Bolivar     
Assistants: Haritha Kambalathmana 
Literature: Fundamental of Photonics (M.C. Teich and B.E.A. Saleh), Photonic Devices (J.-M. Liu), Introduction to Nano-Optics (L. Novotny and B. Hecht), Molecular Scattering and Fluorescence in Strongly Confined Optical Fields (M. Agio)
Topics: Electron and photon confinement in nanostructures, passive and active photonic devices 
Contents: Electrons and photons, density of states, photon and electron transport, light-matter interaction, photonic materials, photonic crystals, plasmonics, nanocomposites, metamaterials, carrier motion and confinement, waveguides and couplers, quantum confinement, optical resonators, nanocavities, light emission, light detection, photodetectors, modulators, non-linear interactions, electro optic devices, nonlinear optical devices
LECTURE AND EXERCISES IN PRESENCE: https://www.uni-siegen.de/corona/
Oral Exam: New dates in UNISONO.
Exercises and solutions are available in the Moodle Course "Photonics Devices": moodle.uni-siegen.de