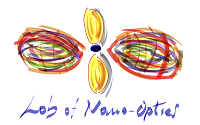 ---
Our latest work on ODMR published in Adv. Quantum Technol.
---
Join the celebrations for the 50th birthday of the University of Siegen. Check out the program Offene Uni.
---
Group member Lukas Hunold receives the student prize of the Kreis Olpe for his master thesis. Congratulations Lukas!
---
Our latest work on biosensing with planar antennas published in Biomed. Opt. Express
---
Check out the Adv. Photonics Theme Issue on Photonics Advances Quantum Science and Technologies
---
Our article on scalable SiV creation by ion implantation on the front cover of the December Issue of Adv. Quantum Technol.
---
Check out the JOSA B Feature Issue on Light-Matter Interaction in Complex Photonics Systems
---
Our latest work on planar antennas published in JOSA B
---
Our review on silicon-vacancy centers in diamond published in Frontiers in Physics
---
Our latest work on color centers in polycristalline diamond membranes published in Carbon
---
The Proceedings of the International School of Physics "E. Fermi", Course 204 "Nanoscale Quantum Optics", are available as en e-book here.
---
Physik II für Chemiker
Wo: Universität Siegen, EN und AR Campus, Vorlesung: Raum AR D-5104, Übungen: AR HB-0204   
Wann: Sommersemester 2022, Vorlesung + Versuche: Di. 10:00 - 13:00 Uhr, Übungen: Mi. 10:00 - 12:00 Uhr
Lehrer: Mario Agio
Mitarbeiter: Keine     
Literatur: Physik (S.W. Koch, D. Halliday, R. Resnick and J. Walker)
Thema: Elektrostatik, Magnetismus, Elektrodynamik
Inhalte: elektrische Ladung und Felder, elektrisches Potenzial, Kapazität, Strom und Widerstand, Magnetfelder, Induktion, Magnetismus und Materie, Schwingkreise, Maxwell-Gleichungen, elektromagnetische Wellen, Optik
VERANSTALTUNG IN PRÄSENZ: https://www.uni-siegen.de/corona/
Klausur Termine: Neue Termine in UNISONO.
Übungsblätte und Lösungen finden Sie im Moodle Kurs "Phys. II für Chem.": moodle.uni-siegen.de